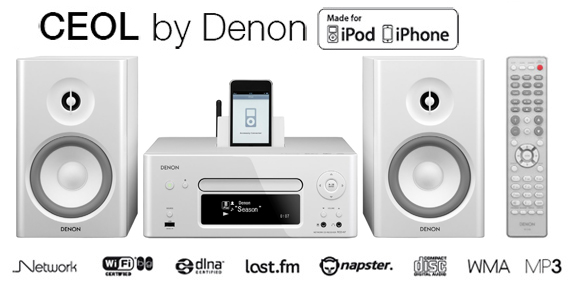 The Denon Ceol RCD N-7 2GB Ceol Music Streamer was long listed in the Gadget of the Year category at the annual T3 Awards.
The awards see the very best of technology battle it out in several categories. This year the Denon Coel went head to head with the likes of the iPad 2 and Microsoft Xbox Kinect.

Despite narrowly missing out on being shortlisted, the guys over at T3 have nothing but praise for the streamer:  'The CEOL is a great sounding music system for the price. […] CD playback has a grace that is immediately appealing, while high resolution FLAC files sound fabulous. The balance is perfect for pop, rock and dance; it's like listening to ice cream.' Read full review here.
The Ceol comes brimming with state of the art technology. Its sleek white design indicates the kind of sophistication that lies beneath its stylish outer shell.

Firstly, despite its iPod/iPhone compatibility sticker, a familiar vision on most speaker docking stations, the options to listen to what you want and how you want are endless.

Through connecting via WiFi or Lan network, you can listen to almost anything you want to via access to an online music platform. Spend hours trawling through all the available Internet Radio stations to find the perfect one for you. Alternatively, plug in a USB and play already stored music.

Not willing to exclude any classic music sources, the Ceol boasts a capacity to play CDs flawlessly – with FM/AM radio to boot!
For a full product description click here.