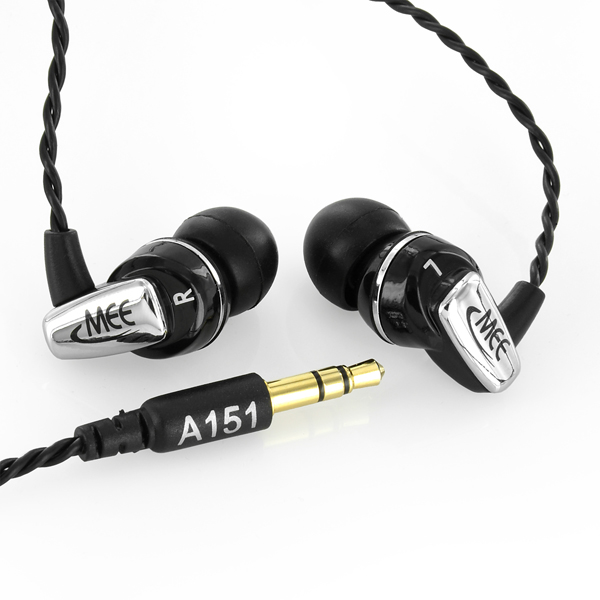 MEElectronic A151
Every month at Advanced MP3 Players we choose the best customer review. This month it has come from Italian-born Nico Guanti for an absolutely outstanding and detailed review. Thanks for taking the time, Nico!
Read his review in  its entirety below.
~ Review by Nico Guanti ~
The choice and purchase of these IEM is not been casual:I've been looking for quite a while for a better
earphone;an upgrading in sound quality was absolute necessary after having found for an amazing low prize
a Cowon iAUDIO X5L 30Gb,an out of production Hard Disk driven portable player,quite known for his qualities
among music lovers some years ago and being a no-nonsense player,still appreciate today by a small public,mostly owners who find difficult to separate from such a performer.
Nostalgia feelings apart,in few words I discovered that I stopped listening music not because I had enough of it but because the quality and performance of the utilized hardware,and I refer mostly about earphones,became unsatisfying to my taste with the passing of the years.
Normally I have been using A CREATIVE player a pair of Sennheiser,followed by a cheap earphones from AKG,the K324P.
It was the last one who started the desire of wanting more and certainly better and gave me the hint
that a low price doesn't mean always a low SQ.
I'd never heard of the MEElectronics,a California based small company but my research was not limited to
well known names only.
Only limitation was a price range and the best price/quality ratio I could find among the immense numbers of brands and items proposed on the market.
I'd already decided for IEM and thanks to a great amount of free time I've been able to read different reviews and guides on specialized sites and forum ,finding out that my budget of 80 euros was was not royal at all if compared to the price lists who were merciless facing me.
So I found out that on every site,from headfi to anythingbutipod,passing through cnet and techenclave
there were audiophiles in awe after having tested these A151 and the CC51,from the same company,MEE that is.
The first catch my interest being a Knowles BA single driver ,an option that made worthier the purchasing when related to the price of 75 USD only (MEE site)
Other positive points are: the various accessories,like 5 sets of ear tips(S-M-L single,double and triple flange),the shell zipped case and the quality of the very comfortable cable,a double twisted 140cm one;design is attractive and more important they are comfy to wear,even for long time listening.
They can be used with cable over the ear or just normally:either way the microphonics is unexistent.
They are made of plastic but to me they seem durable and sturdy;the golden plated plug is a straight one,personally not a big issue.
I've been using them with a Dell laptop,a Creative V and a Micro,and with the Cowon described before.
I'm not an audiophile,but I know when music tracks are well playbacked.The quality I've been listening to goes from low to top and I listen to all music genres.Actually one of the pluses is that the A151 have no preference among the different type of sounds:please note,to whom it may concern, they fancy good recordings…and are right in doing so.
Frankly the A151 is perfect for people who like the feeling of listening to the defined sound of every instrument and vocals without one of the frequencies being more present than the others:all of them are well balanced and people who know better use at this point the adjective neutral to define this feature.
I suppose that for such a clarity to be heard you need a budget double than requested by these amazing IEM.
All the description is based on personal experience:for more detailed specs just google -MEElectronics A151 review- and you'll be sure satisfied.
From my part I can suggest that the prize you find now on this site is unbeaten on the net and,either are you looking for a new earphone or just for the sake of such a bargain,nobody could deny what a kind of treat is to listen to the nicely tuned driver of the A151.
And Hoping to be useful I'll end it wisely:always think about the price of your player and what kind of unworthy phones you received with it:it's just a sin against the Muse of the music…and your ears to keep on using these plastic stuff.