a-Jays  One+
~ £39.99 ~
a-Jays  One+ are new in to Advanced MP3 Players and come with a subtly incorporated in-line mic and button. Advancing on the original a-Jays One model with award winning sound and tangle-free cord, the a-Jays One+ now enables the user to make and receive phone calls. Another benefit, exclusive to Android users, is the Jays Headset Control App which gives the additional functions of controlling volume and track selection from the button too.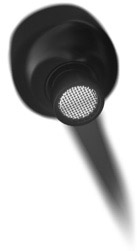 Quality of the product is top priority for all Jays models and this is certainly evident in these. They retain the immensely satisfying tangle-free cable by using a flat design as opposed to the standard round design. This kind of innovation usually comes with a compromise to quality but with the a-Jays One+ they enjoy a pristine sound.
Helping to produce this sound are the silicone ear buds which passively reduce ambient noise by creating a seal in your ear. By shutting out the outside world you reap the full benefit of the 8.6mm dynamic speaker. The sound is good with nice warm bass to keep all your tracks company. Importantly this applies to the clarity of sound when taking calls which, like your music, is crystal clear.
For more information click here.