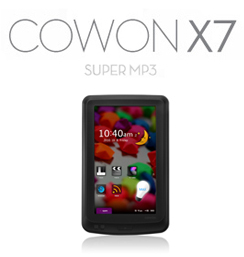 Buyers Guide: Best 5 High Capacity 32GB and Above MP3 Players.
Generally speaking most MP3 users will not require masses of memory and will be perfectly happy with a lower memory capacity player. However, this is not always the case and there are many people who understandably do not want to compromise on how much music they can carry or use lossless formats so need as much storage space as possible.
If one were to step back a few years finding a large capacity hard drive player would be a simple task but nowadays, with most manufacturers moving over to flash memory where higher capacity chips are still fairly expensive, has become slightly more difficult.
Here at AMP3 we have worked hard to build up a range of 32GB and 64GB players so people can get the most out of their music collection and we've recommended our top picks for you below:
Cowon players are highly recommended due to their high quality of sound and while most of their range are capped at 32GB the Cowon X7 is ideal for users who need a bit more storage space thanks to the generous memory size.
The Cowon X7 is a hard drive based player so is a bit larger than most players on the market right now but still fits in to pockets fairly easily. Moreover, the Cowon X7 will play back most audio formats so should be very helpful for lossless users as these files are quite large due to their high quality.
Supplied with earphones, USB cable and mains charger the Cowon X7 the ideal choice if you require lashings of storage and great audio.
What makes the Cowon X7 great?
Generous hard drive sizes so you won't need to trim down your music collection for quite some time.
Large touch-screen makes navigation simple.
With a battery life stated at over 100 hours
What isn't so good?
The Cowon range are not compatible with Mac OS, Windows 64Bit or Linux systems.
The player is quite large due to the hard drive so some users may find it bulky in the pocket.
The touch-screen can sometimes misinterpret your touches; although this is rare.
Check out the Cowon models here: Cowon X7 120GB Cowon X7 160GB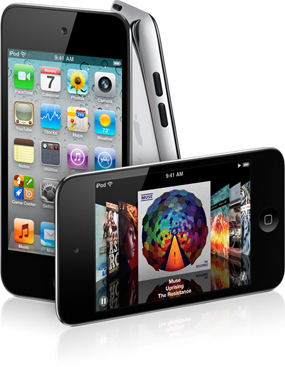 This should be a player many of you are familiar with thanks to Apple's successful advertising and seemingly unstoppable popularity. While they're often not seen as being the best sounding player available one would find it difficult to argue that the iPod Touch is anything other than a great player.
Other than music you'll find many other fantastic features, such as internet browsing and email, and you'll be able to download music, videos and apps from iTunes either at home or while on the move (provided you are in a WIFI area). Moreover, the sound quality is good enough for most people and only non-Apple fans and high end audio enthusiasts are likely to be disappointed.
What makes the Apple iPod Touch great?
Built-in WIFI for internet browsing, emails and downloading media from iTunes on the move.
High quality touch-screen and well laid out menu structure make using the player a joy.
There is a large number of accessories to make the most of the player and these vary from speaker docks to TV streamers.
What isn't so good?
Users are pretty much tied in to iTunes and while this offers many helpful features many people don't want to be restricted.
While the sound is suitable in most cases there are ranges which are better for users who wish for a higher sound quality.
There are no solid skip track buttons; which is something many people still enjoy on touch-screen based devices.
Check out the models  Apple iPod Touch 32GB Apple iPod Touch 64GB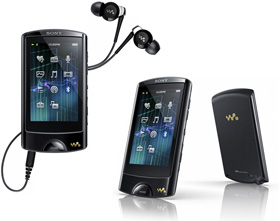 Sony NWZ-A866/A867 Walkman MP3 Player 32GB – 64GB
Sony have been a household staple for years now and their name is consider synonymous with quality. Their new range of Walkman players offer a high memory capacity and an incredibly easy to use menu structure so as well as sounding good the player is simple to use.
As the player features flash memory and is very light we would recommend this to anyone who wants a larger memory player for exercise. Moreover, with built-in bluetooth you can pair the player with bluetooth earphones for tangle-free playback.
What makes the Sony Walkman great?
The menu structure is incredibly simple meaning that users can whip around the player without getting lost.
The touch-screen is very responsive and the screen clear to read.
Bluetooth is included so you can connect bluetooth earphones to the player for wire-free listening.
What isn't so good?
The volume cap which Sony have included on the player may make the volume too low for some users.
While the screen quality is very decent the resolution isn't quite as high as some of their competitors.
Memory expansion would have been a very welcome feature even with the player being available in 64GB.
Check out the Sony models here: Sony NWZ-A866 32GB Sony NWZ-A867 64GB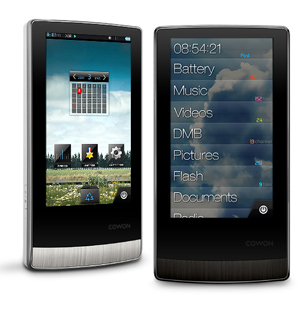 The Cowon J3 is probably one of our most popular players at the moment thanks to the strong sound, lightweight design and long battery life. While the player may not feature quite as much memory as the other players mentioned in this guide there is a MicroSDHC slot which is capable of supporting cards up to 32GB in size. Since you can have as many cards as you want, and just slot them in to the player as required, in theory you have an infinite amount of storage space. Furthermore, tracks which have been saved to a card are displayed alongside tracks which have been saved to the player itself so you do not need to hunt high and low.
We would say that as the Cowon J3 is a very versatile machine it would work extremely well in a number of environments; whether this be using it in the gym or simply on a bus during your daily commute. The bluetooth feature also makes the Cowon J3 very handy as you can pair the player with bluetooth earphones.
What makes the Cowon J3 great?
The sound quality of the Cowon J3 is near unparalleled in the MP3 market.
Bluetooth is included so you can enjoy wire-free listening by connecting bluetooth enabled headphones.
With a quoted 60 hour battery life you will not need to charge the player very often.
What isn't so good?
The navigation method isn't always considered as easy to follow as other players.
The Cowon range are not compatible with Mac OS, Windows 64Bit or Linux systems.
Since there is not a docking system available for Cowon devices listening to music through the player at home means you'll have cables visible.