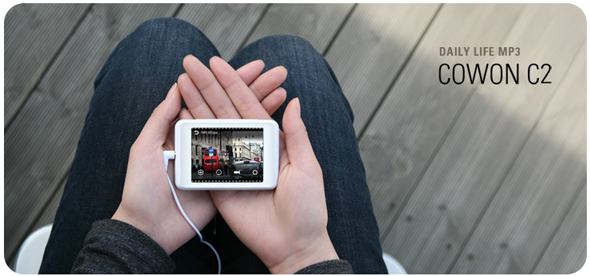 Pros
The brand name 'Cowon' is synonymous with sound quality –and the C2 is certainly no exception.
Small and lightweight – more pocket friendly than some others on the market.
Micro SD slot – Lack of memory? Pah! Why settle for only 16gb when you can have up to 48gb?!
A budget-friendly Cowon –not everyone can stretch to £200+ for an X7 or whatnot.
Cons
No physical skip-track buttons on the side –not an issue for most, but I'd really prefer to have them.
No Bluetooth – Again, I know this is a more 'no frills' player, perhaps I'm just greedy?
Fiddly navigation –Despite being hugely familiar with all of Cowon's offerings, it did take me a wee while to find certain things. General playback is simple though!
Audible – It should work, but we've not succeeded in this so far. Watch this space though – Cowon in Korea should be providing a firmware update soon to aid with this.
Verdict
As a 'newer version of the D2' –it does really well. It's lighter, curvier, and has that cool chrome-plated back – just a bit sexier all-round. Certain aspects of navigation are more intuitive than the other Cowon models, and I must say there are some things it even does better than the near-perfect J3. And yes –I did just say that! Despite, admittedly, not being massively impressed with the C2 to begin with, it has grown on me and I think it's a pretty decent bit of kit for the £109 (8gb) / £139 (16gb) price-tag.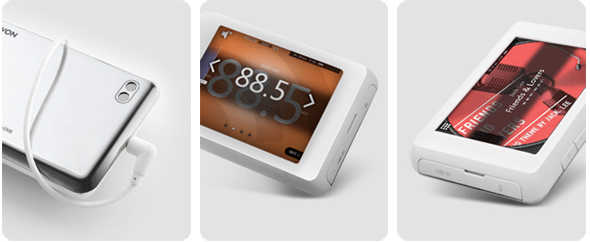 Full Review

Design
Because it's rather wide, you can't use it one-handed as you can the J3, but that's not necessarily a flaw, merely an observation. Two-handed-ness aside, it feels good. The chrome back is cool and smooth, and the other sides/edges have a brushed, matte finish –which I really like the feel of. Even at the risk of sounding like a Cowon pervert, it does feel lovely.
Unless you've tapped the 'rotate' icon on the main menu screen, the volume, lock and  menu buttons will be on the top of the player -what a nuisance! Tapping 'rotate' flips the view by 180degrees, and effectively swapping the buttons onto the bottom side, which in my opinion is far less fiddly and involves less finger-acrobatics.
Like so many other touch-screen players, there are no 'skip track' buttons on the exterior of the player. The general consensus within the AMP3 office is that this is OK, but for me, personally, I'd much rather have physical 'skip track' buttons on one of the sides. Perhaps I'm just greedy? That also probably explains my fondness for the J3.
Despite having a resistive touch-screen, it is pretty responsive –which is a nice bonus on a more 'budget-friendly' player. I should mention, also, that I have found it to be more responsive than the resistive screen on the X7 –which does carry a much-higher price-tag.
User Interface
When you first switch the player on, the default menu layout will be the 'Daily Life UI' –which, in all honesty, is just not nice to use at all. OK, it has some nice moving images in the background of the home screen, but that's about all it has to offer. The icons in this UI are tiny and dull, and reminiscent of the old D2. Do yourself a favour and switch to the 'Visible Layered UI' (by pressing the 'theme' icon) –it's far more intuitive, and I imagine is probably less-draining on the battery. The 'Visible Layered UI' offers big, bright icons which won't strain your eyes, and is (in my opinion) much nicer to use.
As with most other Cowon models, it allows those who have their files organised in a particular manner (ie not just by the standard 'artist', 'album' or 'genre' classifications) to find and manage their files. It also allows you to browse files on the micro SD card separately from those on the internal memory, and vice versa. Similarly, you can view all files from both your Micro SD Card and the internal memory, together. This is probably one of my favourite features of the Cowon range.
As I mentioned earlier in this review, there are certain things the C2 is better for than other Cowon models. For example, adjusting the video and music playback modes is far simpler on the C2 than on the likes of the S9, J3, X7 etc. On these other players, adjusting the repeat, shuffle and playback boundaries can be a bit experimental for first-time users, as tapping the bar to adjust these options brings up a row of mysterious icons, and tapping each of these will only show more mysterious icons. Not brilliant! The C2, however, names each icon, and so you know exactly which playback aspects each one controls. If you're at all familiar with the Cowon range, this may not make much difference as you'll already understand the settings –but for the Cowon-virgins out there, this is a real plus. Admittedly, this may be an entirely selfish point to mention– as the real benefit of the names being underneath the icons is that it may result in less customers being confused –but still, it's a nice feature!
Whilst the playback options are easier to manage than on other Cowon players, finding the likes of 'Favourites' and 'Bookmarks' was a bit tedious. Being incredibly stubborn, I refused to 'Google' it and find out how to track them down, although when I eventually gave in and checked the internet, I did find out that this issue was a known-problem, and was fixed by a firmware update.  After updating the firmware, I encountered no other issues – so if you're having trouble tracking down where the C2's saved your Favourites and Bookmarks, it's best to check which firmware version your C2 is running.
As with all things, the navigation on the C2 is 'easy when you know how' – and I'm confident a novice could get to grips with it fairly easily. If anyone does encounter any problems, I'm more than happy to send my C2 guide to help them 'get to grips' with it.
Sound Quality
It's a Cowon product – need I say more? Everything Cowon 'put their name to' sounds brilliant, and the C2 is no exception. Here in the AMP3 office, we have a little saying: 'once you go Cowon, you don't go back' –and that's purely because most other MP3 players simply cannot come close the sound quality of the Cowon range, or certainly not for under £350/£400.
Conclusion
Admittedly I am greedy, and would (if budget permitted) spend a bit more and get something with Bluetooth and a bit more memory – BUT for a no-frills, great sounding music player, this is a good choice, and one I will be recommending more often.
I did begin my review hating the player, but it really has grown on me – I like the fact that the interface is a bit quirky, I like the fact that it's different.
Besides, we're THE MP3 Player Experts –if you do get stuck you can contact us and we'll be more than happy to help out.