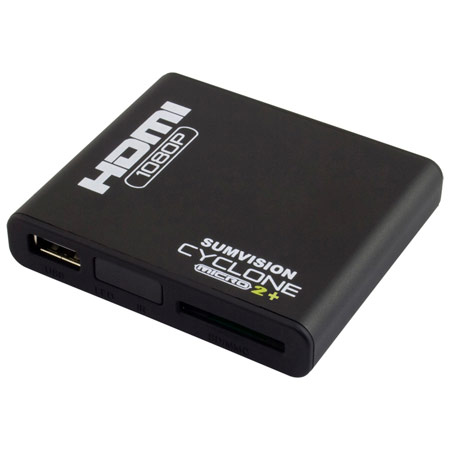 Sumvision Cyclone Micro 2 Plus Upscaling HDMI Media Player
~ A Elliot Holmes Review ~
PROS
•    The Sumvision Cyclone Micro 2 Plus is very small and unobtrusive so can be hidden out of the way effectively.
•    The on-screen menu is simple to navigate so you shouldn't become lost while choosing a video.
•    Most popular video and audio formats are supported.
CONS
•    The unit is not delivered with HDMI set as the default output method.
•    The remote can be a little slow to respond at times.
Verdict
You can't get much simpler than the Sumvision Cyclone Micro 2 Plus for media playback through a TV. While you might not be able to stream over your home network you can quickly  load media on to a USB hard drive or SD card then just sit back and enjoy.
Full Review
Up until recently I've always been quite content using my Xbox 360 for playing back videos but have become a bit more jaded lately. Mainly this is because of the format support not being great but some hair has been lost with the Xbox falling out with my network meaning I have to fiddle about to get Xbox Live working again so I can play .AVI files.
Now my needs are quite simple as all I want to do is play back videos and don't have any need for a BluRay drive or other features which are often provided with more expensive media streamers. While I've had countless conversations about Popcorn Hour and Dune units I thought it was worth taking a look at the other end of the spectrum. Enter the Sumvision Cyclone Micro 2 Plus *A loud gong rings out*.
Usability
Once the box had been opened and the player hooked up to my TV and USB hard drive I flopped back on the sofa and stared in amazement at a high quality picture of…nothing ("But the power light is ON! Egads!"). Now as I've had conversations with users of the rest of the Cyclone range I was fortunate enough to know that this was most likely due to the unit not being set up to output through HDMI by default and once I'd located the button on the remote to change the output the menu did appear on-screen. However, with most televisions now coming with HDMI as standard you do have to wonder why Sumvision don't change this rather than confusing first time users or making them worry that they've received a faulty unit. At the very least they would have saved me a couple of trips to and from the sofa.
This little niggle aside though the on-screen menu is terrifically simple to use. The menu is broken down in to the usual suspects, with sections for video, music and so on, so playing a film is as simple and selecting it from the list and pressing play. Moreover, the browser option can be handy for tracking down media which isn't presented in the main menu – or if you just prefer viewing all you media in one place.
Design
The design is compact and well thought out. The unit is very small so you can subtly hide it near your television; although you'll need to obviously bear in mind that you're not hiding the little thing away from the reaches of the remote.
There only negative about the design, and again this is quite a small niggle, is that the LED on the front of the player is pretty bright so can be somewhat distracting. However, this shouldn't spoil your enjoyment of your media.
Playback
On the whole the quality was very good, certainly on par with what I'm used to with the Xbox, and I didn't notice and lag or that oh so annoying problem where the audio track is running at a different pace to the video. I didn't get in to the whole upscaling side of the Micro 2 Plus and just set the resolution to match my TV but there were a fair few options under this menu so users can fiddle a fair bit to tweak the quality so it's nearer their needs.
Moreover, thanks to the hefty format support you don't need to limit yourself to bog standard .AVI as you can copy over high quality .VOB and .MKV files and enjoy near BluRay or DVD quality playback. Plus Dolby DTS fans will be pleased to hear that the player supports this audio format so should work well through surround systems.
The only negative I have about the playback experience was that the remote control didn't respond as quickly as I would have liked and once or twice I had to stand almost next to the sensor to get it to work. This isn't a problem which has been mentioned to me before so either the remote I had wasn't working as expected or it's something which only bothered me.
Conclusion
Overall the Sumvision Cyclone 2 Plus is a well designed and straight-forward device which shouldn't throw up too many problems for users. The interface is simple and user friendly making tracking down your media as easy as pie. Plus the wide format support is not something you'd expect from such an inexpensive device and is most welcome.
All-in-all the player is definitely worth checking out if all you want to do is playback media from an SD card and aren't fussed about not having network capabilities. If you give it a chance I'm sure that like me you'll be pleased (especially considering that the player is below the £30 mark).