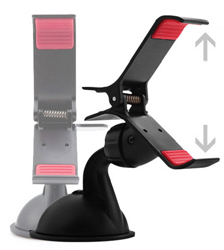 The Exomount is made with most modern devices in mind. What's the use of SatNav on your iPad or phone if you can't see it properly or are awkwardly propping it on the dash, always at the risk of it falling and being a distraction? The Exomount puts a stop to all this. The guys behind the design put practicality first and then made what was good about the Exomount excellent – which in turn makes it fun.  Once you're done, stick it to the wall of your kitchen while reading a recipe from your device or use your iPad for a slide show and put it on a wall for entertainment. The opportunities are endless.
Good
•    Will literally stick to anything
•    Safe – it doesn't leave ring marks for burglars to see
•    Multi-purpose use
Not so good
•    Not discreet if using in home or office
•    Bulky to transport from car to home to office, etc.
•    Sometimes hard to remove from surface it's sticking to
Griffin PowerJolt Car Charger for iPad, iPhone & iPod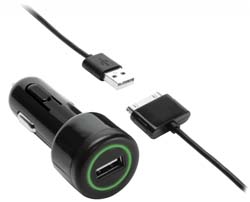 Ever found yourself in that tricky situation where you get in your car to go somewhere but your phone is not charged? I used to think in-car phone chargers were only worthwhile if going on long journeys. With this PowerJolt charger, however, I was delighted to find my phone charged in a decent amount of time. The 2.1 amp makes all the difference and now I can rely on some last minute charging on my short journeys to get me through the day.  The PowerJolt also works with iPads, iPods and other USB accessories.
Good
•    2.1 amps gives powerful and fast charge
•    Detachable cable for other uses
•    Versatile charger – iPad, iPod, iPhone and other USB devices
Not so good
•    Despite versatility – would prefer to be all one cable
•    No more quick release buttons
•    Cable could be longer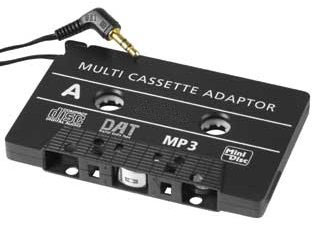 Unless you're lucky enough to have an iPod dock in your car, these simple devices are a life saver! They merge the old with the new. Simply plug your MP3 player into the cable and put the tape in your cassette player and you are good to start playing all your own music. For something so basic I found the sound quality quite good too. This is a perfect device if you quickly tire of the radio and want to effortlessly switch to music on your MP3 player.
Good
•    Works with almost all MP3 players
•    Easy to set up
•    Great if you don't have an in-built cable in your car
Not so good
•    Sound can sometimes be rubbish
•    Have to change track on your mp3 player making it a little dangerous when driving
•    Plenty of competition – doesn't particularly stand out
Kensington Liquid FM for iPod/iPhone & Play IT – FM Transmitter with ClearFM Technology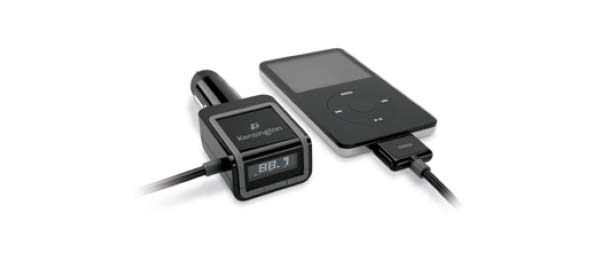 £6.99
This is quite a sophisticated product but comes in behind the cassette adapter because it is exclusive to iPod and iPhones. I would prefer to have something that was a bit more versatile – after all, music is for sharing. This FM transmitter is made by Kensington who have quite (excuse the pun) a sound reputation in this market. However, no matter how good an FM transmitter may be, it is always dependent on FM radio which can sometimes be unreliable. The transmitter does have ClearFM technology which does make a small difference to the sound. The fact that it charges your iPod or iPhone while in use does score major brownie points.
Good
•    Charges your device
•    ClearFM technology makes a difference
•    Easy set-up
Not so good
•    Cannot guarantee clear sound
•    Cannot change track or volume through radio
•    Just for iPhone and iPod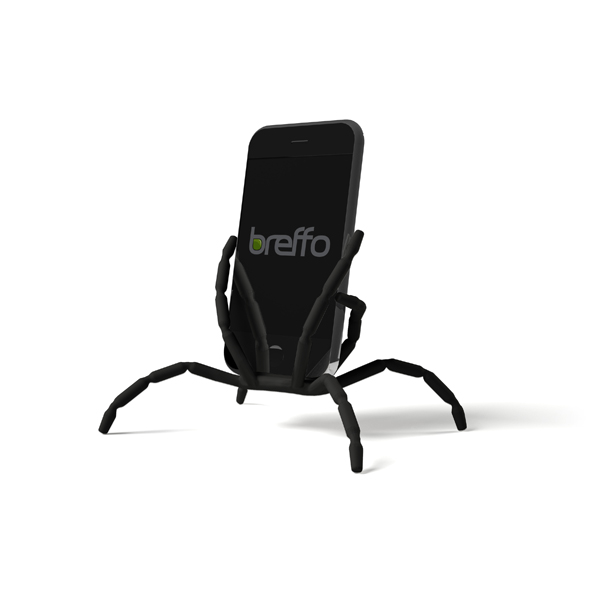 Like the Exomount the Spiderpodium is highly versatile. There are two different sizes. One for mobiles and one for tablets. With an expected eight legs, the Spiderpodium has enough limbs to cling to your device securely with some left over to prop, hang, elevate, your device in the position you want it. Use it when watching films or in the car or even for presentations.
Good
•    Made with good material to provide a secure grip
•    Versatile
•    Basic but innovative design
Not so good
•    Doesn't quite beat the Exomount
•    It won't fit every device perfectly
•    Unsightly when not holding a device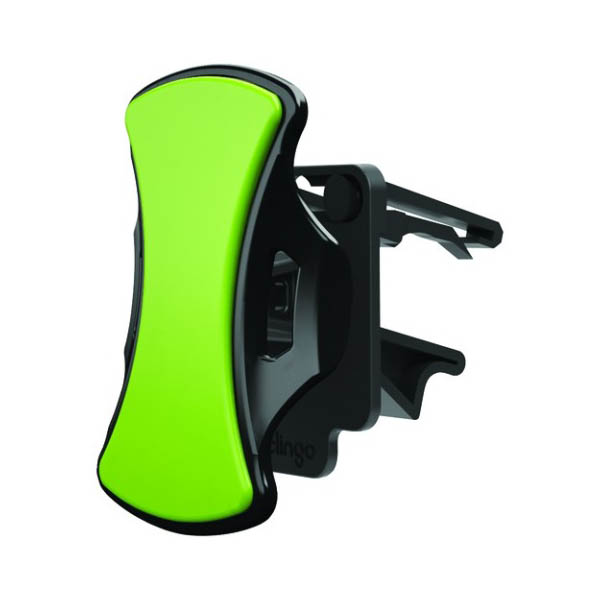 The entire Clingo range is very sensibly designed and highly usable. Like the Exomount, they've kept things basic but highly functional. I chose this specific model as it attaches to the vent in your car. Not everyone will have an appropriate place to stick other mounts but all cars have vents. Simply clip the Clingo in and you're ready to go. The mount is built with safety in mind so that when you need to look at your phone you're not taking your eyes from the road for too long a time. Not ideal for use as a SatNav mount as it won't stick anywhere near a window but certainly practical for speaker phone conversations.
Good
•    Sturdy design
•    No residue left on device after unsticking
•    Easily set up
Bad
•    Single use compared to Exomount
•    Might distract driver
•    Green is not my colour of choice