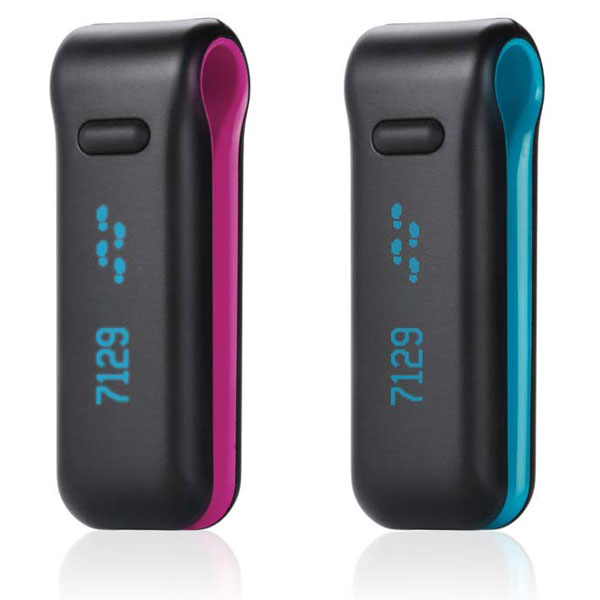 ~ An Adam Caruth Review ~
£79
So now that my 20′s are a distant memory and my metabolism is no longer that of a racehorse I've to monitor my own fitness and health, if I want to regain my full potential.Enter the Fitbit, scrap that, enter the Fitbit ultra! This neat little device (and it was smaller than I thought it would be) is simplicity itself. It's shaped not unlike an old fashioned clothes peg, has one button, a USB docking station (for PC & MAC) and a plastic belt clip (a little like the one that the old Motorola startac had) (old flip style mobile out the same time as the Nokia 5110 – about 1999) anyway as you can see from the pics, I have the one with a blue trim, plum is the other colour, it has a matt finish and the display is invisible until you press the button.
So straight out of the box you can press the button and if it lights up, you've got power, but I'd recommend firing up your computer and plugging it in for a charge and to set up an account on the Fitbit website. You can install some software from their site which will allow you to setup an account and your device. I had a mix of success with this, basically ended up creating the account online then used the app to login! Now that the app is installed it appears to be nothing more than a login box that links to the Fitbit site! The Fitbit is essentially a motion sensor, it won't get it right all the time but will definitely help you record activities, set goals and possibly even motivate you!
The website has loads of things for you to track from blood pressure, heart rate, to blood glucose! If you have access to the devices to give you those readings (blood glucose monitoring is typically used by people with diabetes) the Fitbit will monitor steps taken, flights of stairs climbed, calories burned, and will time an activity or monitor sleep. I don't know all the complicated mathematics it used but it seems to get the stairs thing pretty much spot on, although I did get credit for stairs when I took big strides and went up a few hills! The sleep thing is kinda cool but you are not rigging things up to your brain to track sleep! It comes with a Velcro cuff to put around your wrist whilst you sleep and when you turn the telly off or put the book down or…whatever you do before sleepy time, press and hold the button until the timer starts and you settle down for the night. It then uses the timer and the motion detector to tell you how many times you move/wake etc. My best was 98% sleep efficiency, oh and don't forget to press and hold the button when you wake from slumber, to stop the timer.
When you pick it up off a table or have left it inactive for a time, the motion triggers a count down to the end of the world, no, no it doesn't it displays a number of friendly/motivational words along with a word (up to 8 characters) of your choosing e.g. Bonjour ******** or faster ********. The stars replace the name mine calls me, it's a bit rude so that's why it's blanked out! Technology is supposed to make our lives easier! The trade off is with an easy life health and fitness can suffer.
The Fitbit ultra will not miracle you fit but it could help you take some personal responsibility and set some goals for you! I definitely feel that if I don't take the stairs or reach my target distance and steps, I've let myself down in some small way and the problem with that is, there is no one else to blame. However if you need to cheat, attach it to your dog's collar and in no time at all you'll be at your daily goal. (and if you look really close in one of the pics, you can see Raleigh the accomplice, I mean the dog)
Overall I really like the Fitbit, I've a wish list of things I'd like it to do, e.g. Live link to smartphone for easier logging of data, their smart phone app could have better synergy with the website, possibly a waterproof one that could give you credit for swimming and last of all even though it is in itself a clip and has a mini holster, I'm still constantly checking my hip for it!  I'm paranoid about losing it, I'd love a bulletproof way of fastening it to my belt.