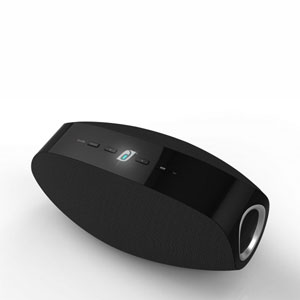 Damson Oyster
£159
Not another Bluetooth speaker!
Yes, yes it is!  This technology isn't going away people, it's just going to get better and this offering from DAMSON is an example of how good this stuff can be!
There is no getting away from the fact that most Bluetooth speakers/accessories are from brands that most of us don't recognise.  Our usual list of HiFi/stereo equipment comes from SONY, PANASONIC, SAMSUNG, etc. So unless you've plugged yourself into Bluetooth from the get-go, lots of these wireless gems will not excite you with their name alone!
I've got a full set of blueteeth; wireless keyboards, mice, trackpad, speaker box, headphones, in car hands free speaker and even the BASS speaker on my surround sound system for the TV is Bluetooth.  With all those items on my CV I'd never heard of DAMSON!  Shame on me!
Now that's not to say that the big boys don't make docks and Bluetooth offerings, it just means you can afford to step outside the trusted brand comfort zone!  Jambox, FOXL, iRiver, Logitech, Matrix, Pure and of course Damson are just some of the brands out there that can become your new trusted brands!
I was tempted to do a shootout style review on the Damson, but after playing my usual test tracks AC/DC thunderstruck, Captain Planet get you some, the Jezebels dark skies… So anyway I did give it the usual test tracks to benchmark what I know, what I like the sound of! Then I felt that pumping out a few old favourites as loud as it goes on the kitchen shelf was not going to be a proper audition!
The proper audition required listening to a range of things in the house, outside the house on the kitchen table, beside me on the table beside the sofa, all the places I am when I'm listening to music, audiobooks, playing video games and watching movies, oh and making /taking telephone calls!  Yes the test process has to be more than turning the volume up to 11 (the max according to Spinal Tap) and seeing if it sounds alright!
If you just do that you're not likely to find many devices that fit your needs.
YouTube is filled with unboxers and vs videos that rarely give anybody any idea of the true performance of the product, now don't get me wrong reviewing can be tricky, (I should know, I never give facts, I'm always talking about unicorns and saying BASS isn't for vegetarians) but a vs review is bias towards the reviewers preference or bias by the questions being asked of the product!
Anyway I'm not going to lecture you about "how loud is it?"…  Well actually I am going to lecture you just a little!  All portable speakers do not need tested at FULL VOLUME!
Without getting into all the techno mumbo jumbo (or TMJ as its not known by) your source or input can have wide ranging results on the output!  Sounds obvious when someone says it out loud!  I'll give you an example, Elliot (sales and in house reviewer forAMP3.co.uk) tested the MATRIX Qube (as did I) however he tested it with a smartphone and a laptop, with the latter giving a significant performance difference!  (I only tested it with smartphone and tablet)  So with that in mind, not only will your device of choice but your audio codec of choice have an influence over how loud you can go before hearing distortion!
The DAMSON oyster can go up loud, will you be amazed? Probably not. But this is not a negative!  (Out of all the places i tested the DAMSON oyster, I found the great outdoors to be the best, [well the windowsill out the front of the house to be exact]). The DAMSON oyster is beautifully engineered and well put together, it looks the business! It looks expensive and I suppose in the portable speaker market, yes it is, well it's not the dearest or the cheapest in its category.  However it does its basic job very well and it's aesthetics are truly different from the competitions boxy offerings! I found it it be significantly better than any of the sub £100 competitors, even much better than the Jawbone Jambox and only out performed by much more expensive toys.  (Think £200+)
To sum up, I have learned not to just wack the volume to the max and expect great things, I now generally put my source (iPod, iPad etc) to full volume and control the volume on the Bluetooth speaker to get the optimum sound for the situation! (The video link below shows me flicking through some of the audio presets on the iPhone linked with the oyster, and Raleigh the dog stars in the vid too)
The Damson oyster looks and feels like a luxury item, it performs very well against its competition, it comes with the usual charging accessories and I'm assured it also comes with a 3.5mm audio cable for when bluetoothing is not an option!  (The Gadget show and some other tech press got this before me, so it's just as well I didn't want to do an unboxing!  I don't even know what it's box looks like!)(just sayin! When I send the stuff back it looks brand new, you'd be hard pressed to even call it B-grade!)
If you want a bit more oooomph from the portable Bluetooth offerings the DAMSON oyster fits the bill, however the bill for the extra quality takes you over the £100 threshold, this won't be for everybody's pocket money price range, but as the man says "you get what you pay for"
And now for your viewing and listening pleasure…check out this video.