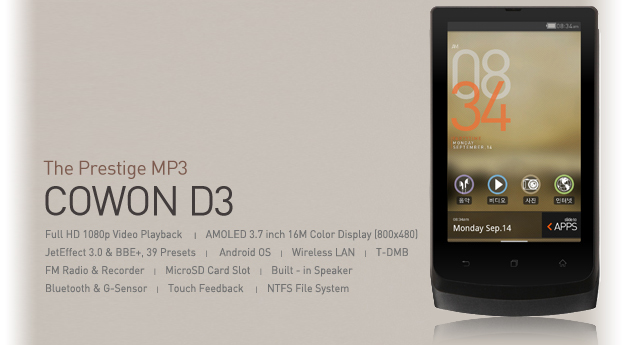 £239
'The amp section in the D3 is very well performing, as usual for Cowon players. It shows no background hiss with even the most efficient IEMs (except for the BBE issue described above, which seems to be a software issue, not hardware), it has very low output impedance and drives finicky multi-armature IEMs with crossovers properly.' anythingbutipod.com

The Cowon D3 has had a thorough grilling by the guys over at anythingbutipod. Every detail, every feature, every aspect of the D3 has been expertly scrutinised by the specialist critics and you can read the full review here.
The Cowon D3 is an impressive little device that boasts an array of high performing features. The HD quality playback will keep you glued to the screen for hours on end. High quality entertainment is  synonymous with Cowon products and this D3 is nothing but high quality. Enjoy hours of entertainment whether it be listening to high fidelity music or browsing the internet.
See how the  Cowon D3 fared with anythingbutipod here.
Click here for a full product description