The prestigious Trusted Reviews Awards winners have been announced and at Advanced MP3 Players we are delighted to report that two products reached the final stages of selection. In the Portable Media Player of the Year Award both the Cowon X7 and Sony NWZ A866 were runners up losing to the Apple iPod 4th generation. Public voting took place to establish a shortlist of finalists for every award. It was then down to the experts at Trusted Reviews to determine the winners of each category. The X7 and NWZ-A866 are not unfamiliar at Trusted Reviews having both received glowing reports previous to the awards.

The X7 and NWZ-A866 didn't go down without a fight and certainly provided the grounds for a seriously 'tough competition'. Read why below.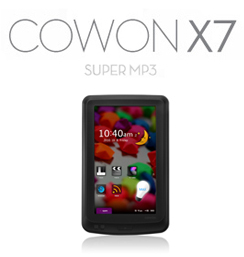 Cowon are a brand synonymous with quality sound where this level of high fidelity playback is a rarity amongst players at a similar price point. It would be an understatement to say Cowon take sound seriously. What makes them unique however is Cowon appreciate that sound is different for every listener. What might sound brilliant to one person may sound horrendous to another. That's why Cowon have included 35 pre-set music profiles to suit a vast amount of musical tastes.

The player is absolutely brimming with features such as having picture playback, video, a document reader and a flash player to name a few. Not only this but Cowon have made sure that these features don't get in the way of what the Cowon is primarily for – to play music. They've loaded the device with a powerful battery that will give you 103 hours of music and 10 hours of video.
'The Cowon X7 offers great value, at £199 for a generous 160GB of storage, and it has class leading file support to boot. A large screen, good battery life and superb sound quality also help to make this a real contender.' Trusted Reviews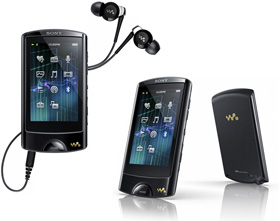 The Sony NWZ-A866/A-867 models take a distinct leap in quality from former models. This player incorporates sophisticated features such as a responsive touch screen and Bluetooth connectivity. Excellence in sound has long been a top priority of Sony and the NWA-A866 is no exception to this. Using five unique Clear Audio Technologies and the S-Master MX digital amplifier to reduce noise and distortion, Sony exceeds the expectations of experts and audiophiles alike.
Sony has incorporated highly sophisticated specifications in the NWZ-A866 but has sensibly maintained a basic menu grid making navigation effortless. The touch screen is pleasingly efficient and responsive with a solid home button located at the bottom.
Though some of the features on the player are certainly periphery (Karaoke mode) the others are totally necessary.
The Bluetooth function allows you to seamlessly connect with other wireless devices such as wireless headphones, compatible speaker docks, car audio head units and other devices. Alongside the Bluetooth function, Sony has incorporated a variety of entertainment features.
To top it all off, the Sony is beautifully designed with a smooth user interface.
'Our panel liked the drag-and-drop interface which freed them from the binds of iTunes, and the pitch and speed alteration modes, which would appeal to musicians.' Trusted Reviews