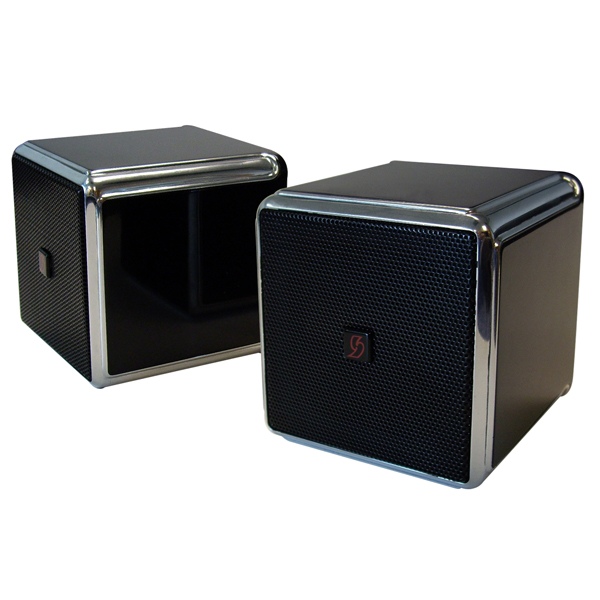 SoundScience QSB Desktop Speakers
'The design is clean and simple – all that was required was a union with my laptop's USB port. Recognised immediately by Windows – the QSB sprang into life with a balanced, powerful rendition of Bohemian Rhapsody, while the edgy tones of Glasvegas echoed with the sonic sharpness of shattered glass.' The Scotsman
What HiFi RATED 5/5 Read full review here
Here at Advanced MP3 Players we are no strangers to big things coming in small packages. This saying certainly rings true when it comes to the SoundScience QSB Desktop Speakers. These SoundScience QSB speakers are clever little things in that they charge using only the power from your laptop or PC. You enjoy big sound from small speakers that don't even need to be plugged in to a power socket.  A huge advantage if you wish to save space on your desk by reducing the clutter that comes with cables.
The QSB speakers themselves are neat packages of excellent sound engineering. They measure 8.5 x 8.5 x 8.5 cm but have the power of 30 watts. SoundScience have incorporated DyadUSB technology which is a revolutionary piece of kit that enables a 15W per channel audio burst all from only 2.5W of electrical power. This unique technology has been made by the best for the best.
As seen above the SoundScience QSB speakers have been well received by expert critics and definitely exceed their price point of £89.99. Their sound is big and certainly loud enough to get the whole office listening. If you're after quality of sound and more than enough volume for your work space the QSB speakers are definitely the way to go.