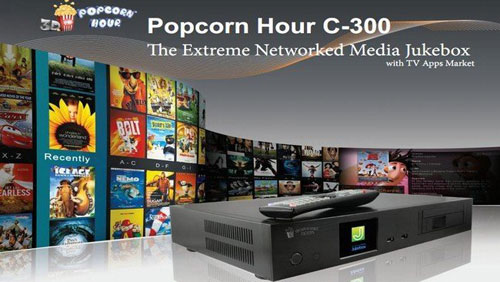 Popcorn Hour c-300
~ £369 ~
The long wait is finally over and we can now welcome the arrival of the Popcorn Hour C-300! The Popcorn Hour C-300 is a media streamer that will store your movies, videos, music and photos in one place giving easy access to them whenever you want. They are played back through the high quality output capabilities of the C-300 that delivers stunning performance.
The C-300 has been updated with all new Sigma Designs 8647 800MHz CPU with L2 Cache that updates the power of the C-300 giving extra oomph to its performance.  Despite these technical upgrades the Popbox C-300 is operated by a really simple to navigate user-interface.
The Network Media Jukebox will automatically scan your media and download relevant information such as album art and movie synopsis. The C-300 brings your existing media to you in astonishing high quality. Get yours today!
Why not join us on Facebook for exclusive deals and updates? Click the image below and 'like' us.