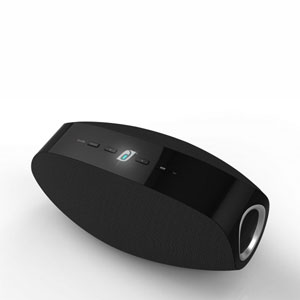 Damson Oyster
£179.99
The Damson Oyster is the latest in our stellar line up of Bluetooth speakers. With the introduction of the iPhone 5 and growing popularity of other brands of smartphone the once mighty iPod dock is fast becoming a thing of the past. A wireless connection is the preferred means to link your phone to speaker which doesn't limit you to a single brand or device.
The Damson Oyster is an Apt-X Bluetooth enabled speaker that delivers a secure 10m range, whopping battery life and the sound you'd expect from a wired device. With not one but two speakers built into the device the Oyster pumps out 10w of sound producing a comprehensive frequency range. Expect warm bass and clear vocals from the Oyster.
On first handling the speaker you'll immediately be taken by the build quality. The grilles are magnetic as opposed to drilled on, allowing for easy access of the internal workings if you want to see the drivers in action or to change for a different colour. The buttons on top enable pairing and volume control and are subtle and placed on the neat plastic band separating the grilles.
Pairing is effortless and the Oyster will remember your device and automatically link up when on and in range – a surprisingly handy touch. If you're using a Smartphone, take advantage of the microphone and use the Oyster as a hands-free kit.
Recently reviewed in The Scotsman the Oyster was well received in the areas that count to the everyday user:
"The built-in rechargeable battery pumps out 12 hours of juice. […] Apart from vicious volume, the four speakers include Wave Field Syntheses 3D Sound, virtual surround sound tha did an admirable job of orbiting chimes around my head." The Scotsman
We're excited about this at Amp3, very excited. Get yours here.