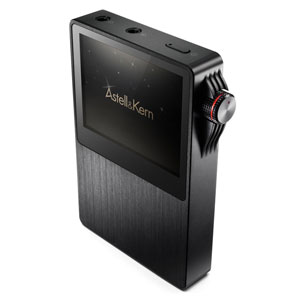 Astell & Kern AK120
*£1,099*
The AK120 vastly improves on the AK100 with estimated audio improvement being 20%. When we thought it couldn't get better, the AK120 has paved the way for a whole new category of precision audio.
Basically, with electronics that boast two Digital to Analogue converters (DACs), the high resolution AK120 delivers an instantly impressive audio upgrade with incredibly immersive depth, clarity and spaciousness compared to the AK100.
Part of what makes these DACs so special is that they are made by audio experts, Wolfson, which makes the AK120 one of the most accurate reproductions of sound available. Think of it as building a luxury car and putting in Ferrari parts to compliment the engine.
It looks great too. Sleek and small enough to fit a shirt pocket the AK120 boasts a turning knob on the side for navigation and quirk appeal. Another unconventional bonus is the storage capacity. There's 64GB of built-in memory and the added ability to double again with two built-in 64GB micro-SD card slots, this makes for a lot of space. Space that is as rare as the Dodo when it comes to high end players.
For a far more technical take on the AK120, check out the product page here. If you're an audiophile with knowledge of sound engineering, this is where the £1099 price tag is justified. For anyone else, just know this: the AK120 is one of the truest sounding players on the market that will bring your music to life.