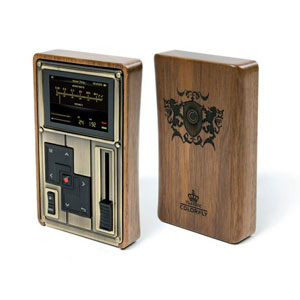 Colorfly C4
£549
The C4, a staple at Amp3, might appear retro but the sound it's capable of emitting is distinctly modern. Hi-Fi World think so too. In a recent 3 page review Hi-Fi World had this to say of the walnut cased wonder:
'1970s fantabulous, the Colorfly C4 Pro is one wacky device […] it has an exciting sound that seemingly lifts hi-res higher, making listening a thrill.' Hi-Fi World.
This product, with an average customer rating of 5/5 stars, is certainly wacky. Few high end music players veer from the cool crispness of brushed metal housing and predominant black, white or silver colouring. The C4 got the sound right – exactly right according to customers and reviewers alike – and decided to get unique with its design.
If you're designing a luxury music player you've got to make it look the part and nothing screams luxury than technology enclosed in walnut wood, right? Obviously Colorfly designed this vintage beast with intentions to visually compliment the 50 year old malt you'll undoubtedly be drinking while listening to its aural offerings. The juxtaposition between design and performance invites, nay positively encourages, discussion and debate akin to verbal hot topics like the meaning of life or the latest episode of Homeland. A truly luxurious and memorable player.
As Colorfly appreciate, appearances do count, but when you're forking out £549 on a music player you're going to want it to do what it says on the tin. And the C4 absolutely does. So who's really complaining when you're being carried through a heady sonic experience by something better placed in the 70s than alongside the seas of brushed silver players out there? Probably no one.
Get yours today.