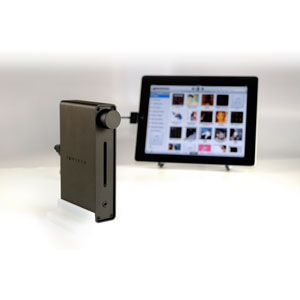 ~ An Adam Caruth Review ~
£149
As usual ohms, kHz , and impedance are unlikely to feature here.  If they do, I'll do my best to use technical jargon so it sounds like I know what I'm talking about and not plain English so everybody understands!
To start with, the nice people at nuforce are good enough to provide a pamphlet on "good sound" which is not the same as "loud sound" (loud sound seems weird to me but "loud music" doesn't work!  Just go with it, thanks). They explain that quality sound systems do not have to shake the skin off your bones! (that is not a direct quote, I just don't want to plagiarise their work) the crux of it is quality does not have to be loud! "I'm inclined to agree" To start with, depending on your budget depends on whether or not you think anything is good value, cheap or expensive!  If you enjoy a particular activity, typically you bend your budget in that direction to justify your spending.  Seeing as I have purchased and been gifted headphone amps, I have been drawn into a world where my music listening needs now come attached to amps!
To start with, For the record I bought the FiiO E1, E5, E6 and got an E11 as a Christmas gift, depending on how much digging about on the amp3 site you want to do will determine whether or not you read my reviews/comments on those products.    All of those products were less than £50 some even less than £20.  The iDO is in a larger price bracket, it is £200+ on the amp3 site.  If I didn't already have four headphone amps I would find it hard to justify the price. So to start with, the FiiO E1 vs nuforce icon iDO; FiiO E1 30 pin connector; Icon iDO 30 pin connector. One point each! FiiO E5 case made from black metal; Icon iDO case made from black metal. One point each! FiiO E6 connects to headphones via 3.5mm port; Icon iDO connects to headphones via 3.5mm port. One point each! "I'll do the totals at the end as the scoring system is complicated" FiiO E11 big knob for volume; Icon iDO big knob for volume. To start with, I like music on the move so a portable music player and portable amp is the right solution for me, but it's still far from perfect as you end up with spaghetti junction in your pocket with all the wires etc.
The nuforce icon iDO  is designed to amplify music from iDevices (iPod, iPad, iPhone) to headphones or to a larger home system!  The fact of the matter is, with compressed music formats there can be a degradation of quality, amps go a long way to redress this situation and the nuforce worked very well and sounded great with a range of headphones.  As I've said on other reviews headphone amps really help power those big cans! (industry term for over ear headphones) so I've used Shure 750DJ, Bose quiet comfort 2, v-moda crossfade for the over-ear style all to good effect, for in-ear I used Shure 315′s also nice sounding (one song I particularly like to use is "good times" by INXS & Jimmy Barns, as the Shure 315′s and iPod deliver a poor rendition of this song, but attached to the amp it's awesome!) I have to say that other songs on the iPod with the Shure 315′s without the amp are great, just in case you thought there was something wrong there.
To start with, you spend your hard earned money and what do you get?  Well from the picture, it is a black box with a massive knob on top!  It feels nice in your hand too and goes "dugdugdug" when you rotate it. As with all the amps I've used, turn up the iDevice to max volume, then control the output from the amp itself.  There is a rubber holder for the amp to keep it in place when you are fiddling with the knob, a USB to 30 pin connector, a power adapter and best of all a little blue light goes up and down when ok the wee light goes up and down to indicate volume when you play with the knob!
To start with, this is a quality product no matter what way you look at it! For me, I've fallen into a world where headphone amps are portable, and when I listen to music at home it is normally not through headphones so the icon iDO is not on me shopping list. Seeing as I'm not the boss of the world it's not up-to me to decide how music is listened to. The nuforce has got connectivity to headphones and larger systems so if that floats your boat then the iDO can do! To start with, let me explain the premise of these reviews iDO.  I'm a bit like an over excited waffly mate who can't explain things quick enough without getting side tracked.  I do research and read reviews and techno babble about products I'm shopping for, to ensure I get the right product for me, FOR ME!  I'm not going to tell others that this is a must for them or that they should only go with this.
That's all for now, see you next time with more no-facts and no techno jargon.
For more information and pricing on any of the FiiO amplifiers, click here. For further information on the Nuforce Icon iDo, click here.