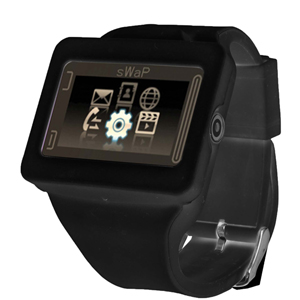 The sWaP Rebel Mobile Phone Watch & Media Player was in Sunday Express!
Listed as a "must have" this summer, the sWaP Rebel is a fantastic watch and mobile phone for all gadgets and tech lovers!
The sWaP is a rather unique addition to the mobile phone market and has lots of hidden features that will leave you startled, like the hidden camera, bluetooth compatibility, the FM radio and WAP! It is also open to most networks (other than 3). Thankfully sWaP included the Micro SD expansion as their on-board storage isn't up to scratch with other devices, but this can be forgiven for it's tiny size and spy-like design. No more bulging pockets with your mobile phone, mp3 player, wallet and keys, you will have a watch, a phone and an MP3 player round your wrist.
sWaP Rebel Sim Free Unlocked Mobile Phone Watch & Media Player with Camera – £189
Also available on Advanced MP3 Players – Visit www.amp3.co.uk