The most anticipated Sonos Unit  - "Sonos Play:3″ – is landing in Advanced MP3 Players Next Week!
Available now for Pre-Order!
Sonos have decided to launch a new wireless speaker system. This new product seems very promising and more affordable (£259).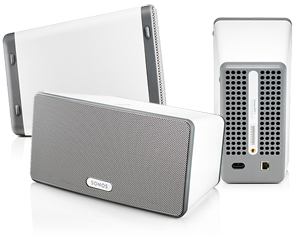 TrustedReviews says…
"The Sonos range has just opened-up to a whole new swathe of buyers. A £249 price tag may not make the Sonos Play:3 an impulse buy, but buying a Sonos system isn't the imposing prospect it once was. With sound quality better than you might expect of its small stature, this is a cheaper, less conspicuous alternative to the B&W Zeppelin Air." (click here to read more)
What Hi-Fi tells us:
"The speaker can be used on its own, or as a pair for stereo sound, and can also be flicked between vertical and horizontal, changing their tonal balance as they do so."
"With a new brand logo to match the new names, it marks a fresh onslaught on the 'wireless hi-fi' (Sonos's preferred term) market." (click here to read the full article).
Available NOW at Advanced MP3 Players