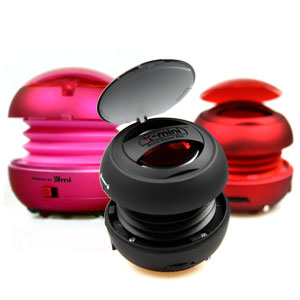 X mini v1.1
£24.99
'The speakers are surprisingly loud for their small size, but you'll need two to fill even a small room with sound. The audio is remarkably well-rounded and the single 3.5mm driver copes with even the most complex rhythms, producing clear high notes and fleshed-out mid-range, but it can't quite hit some deeper bass notes. The X-mini's sound quality sets it apart from most portable speakers, so it wins a Best Buy award.' Read the full Expert Reviews review here.
The X mini v1.1 has been given a 5 star review from Expert Reviews and rated as their Best Buy product! With up to 6 hours battery life and explosive sound it's easy to see why the X mini has received such a glowing review.
The 3.5mm jack will connect to most phones or mp3 players. It's small enough to throw in a bag or pocket but produces unbelievably clear sound – enough to get the party started. Get yours today.